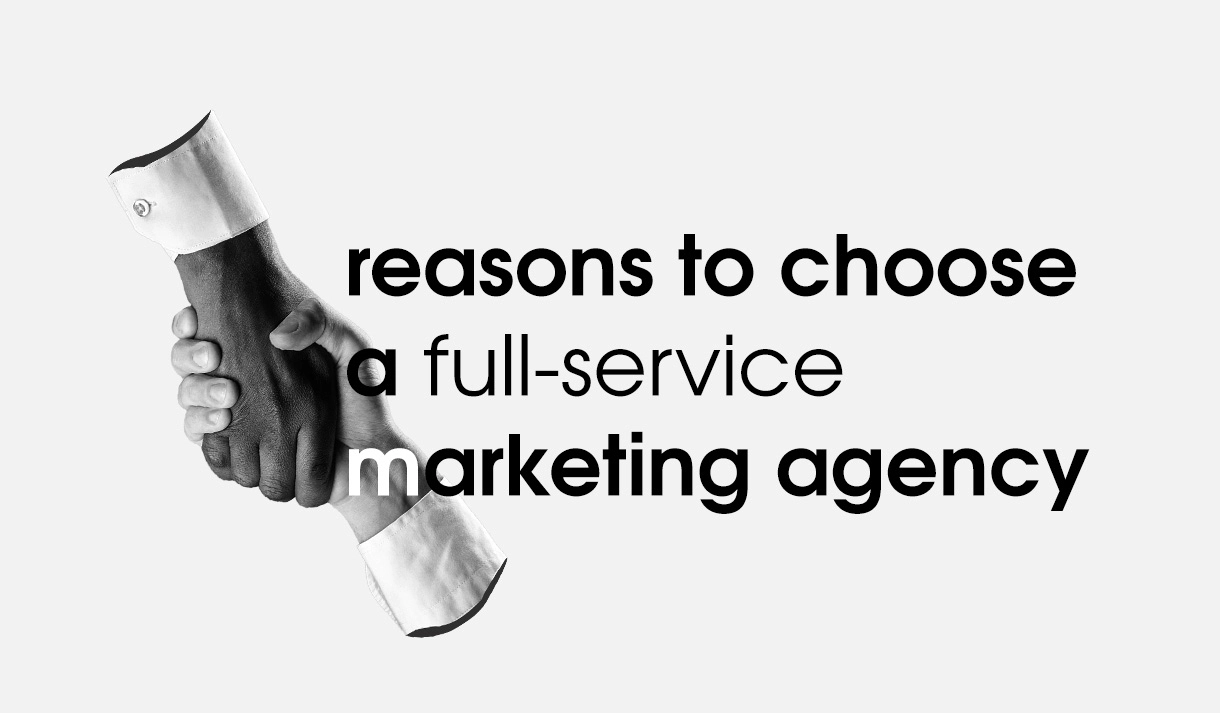 Reasons to choose a Full-service Marketing Agency
When you hear the phrase "Full-Service Marketing Agency", what is your first thought? Some people might not have anything to worry about. To help you understand what a full-service marketing agency can do for your business, we have compiled a comprehensive guide.
What is a Full-Service Marketing Agency?
An agency that offers various types of marketing communications, including plan formulation, email marketing, social media marketing, and SEO services. It functions as a private marketing manager. Such an organization may handle your company's social media accounts, graphic design, web development, website management, and more. You may spend less time, effort, and money by choosing group of talented, energentic people to make your brand highlight. A full-service marketing firm can really benefit your company. It's important to keep in mind that you must successfully communicate to them your marketing targets, goals, and relevant information.
Benefits of a Full-Service Marketing Agency
1. Faster and Effective Results
People are motivated to improve by the outcome. Better, more effective, and quicker results are key benefits that any organization experiences while working with a full-service marketing firm. When we have a knowledgeable group of professionals on board to assist us in our business, a lot of time is saved. Only one effective explanation of the your concepts and objectives is required; the marketing team will handle the rest. They are experts at planning, carrying out, and implementing what works.
2. In-depth Analysis of Brand values
The marketing agency has a clear and consistent grasp of the brand values for each service it offers. The agency's employees' expertise enables them to comprehend the brand's values with clarity. Additionally, it implies that consistent brand values be communicated in a polished and organized manner through all marketing media. When working with many agencies, the concepts and viewpoints about the different services can not be the same. A full-service digital firm produces effective results while requiring little administration, communication, and time.
3. Budget Management
For smaller firms, collaborating with a full-service digital marketing agency is more cost-effective. Providing an excellent opportunity for them to properly create their digital marketing strategies and be able to afford expert services. Your budget may be further strained by the necessary tools, instruction, and additional workers for internal hiring. A professional firm will carefully examine and assess your company's objectives and goals. Based on your objectives and goals, packages are created that fit your budget, clients, and aims.
4. Knowledge And Expertise
A full-service marketing agency has a superb staff of knowledgeable, accomplished experts. These professionals combine their industry experience with cutting-edge technology to provide your company efficient marketing strategies and guide toward expansion. The marketing teams are aware of effective marketing strategies for your business because they have experience working with the clients. They can use their skills and experience in everything from graphic design to sales, SEO, sponsored advertisements, and content writing. The campaigns are especially designed to fit the voice of your company.
5. Multi-Platform Optimizations
The core of a full-service marketing company is this. They put together a team across major marketing platforms and services while keeping an eye on your budget. This also means that your company will have the opportunity to experience fresh concepts and exciting new chances. Since there is much to manage, handling marketing by yourself leads to a minor chance of missing out on a crucial channel. With a full-service marketing agency, this is not the case because multiple teams manage and participate on numerous channels. They focus on the marketing channels that are most effective and work on new launches while maintaining constant communication. They also make never-ending attempts to boost engagement and expand their audience.
Key Takeaway
Hiring several agents to take advantage of marketing services can result in shattered brands, divergent perspectives, and inconsistent consumer communication. Even while it can appear to be a viable alternative, it doesn't work out well for anyone. Resulting in a budget explosion, discrepancies in brand messaging, and long work days. You can communicate your brand's beliefs and vision in a clear way when you work with a reputable, experienced marketing organization. We do away with the necessity for back-and-forth contact and explanation by placing a full-service digital marketing agency at your door. To build a genuinely authentic brand that people can't help but love, let us help you write something significant and generate dynamic, customer-focused marketing strategies, all in one location.