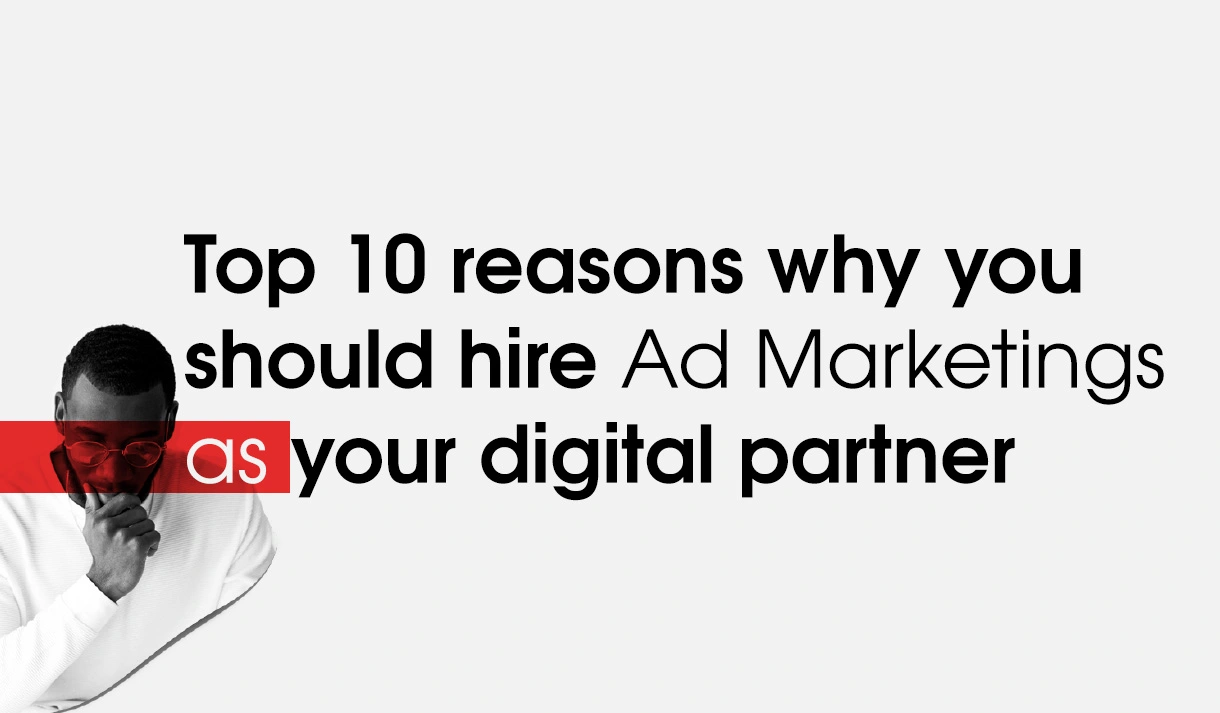 Top 10 reasons why you should hire Ad Marketings as your Digital Partner
If you're running a business, chances are you've already considered hiring a marketing agency to help improve your online presence. But with so many options available, it can be difficult to decide which agency to work with. We'll be discussing the top 10 reasons why Ad Marketings should be your top choice for a marketing digital partner.
10 Reasons
Experience and Expertise: Ad Marketings has years of experience in the industry, and our team of experts has the knowledge and skills. Moreover, our team can drive the results of your business. We always stay up-to-date with the latest trends and best practices. We always ensure that our client's websites are optimized for success.
Customized Strategies: We understand that every business is unique, which is why we create customized SEO strategies. Especially, we take the time to understand your business, industry, and goals to create a strategy that works for you.
Proven Results: We have a proven track record of success, with many satisfied clients who have seen significant improvements in their online presence on social media platforms and brand awareness.
Transparent Reporting: We provide transparent reporting to clients, so you can see exactly how your website is performing.
Competitive Pricing: We offer competitive pricing for our all digital services, so you can get high-quality work without breaking the bank.
White Label: We only use ethical techniques that are approved by search engines and also other platforms. So that you too don't have to worry about any penalties.
Comprehensive Services: We offer a comprehensive range of services, including creatives, brand awareness, web development, social media marketing, and more. We can provide a full suite of various solutions to help improve your online presence.
Excellent Communication: We pride ourselves on our excellent communication with clients. We keep you informed every step of the way. We are always available to answer any questions or concerns you may have.
Client Satisfaction: You can trust us for our dedication to our client's satisfaction. We always go beyond to ensure that our clients are happy with their services.
Long-Term Partnerships: We believe in building long-term partnerships which is why we create strategies that provide long-lasting results.
Lastly, Ad Marketings is a top-tier creative marketing agency that can help take your online presence to the next level. Our experience, expertise, customized strategies, and proven results also make us an excellent choice for your business. We are always looking to improve search engine rankings and online visibility. Contact us today to learn more about how we can help your business succeed online.