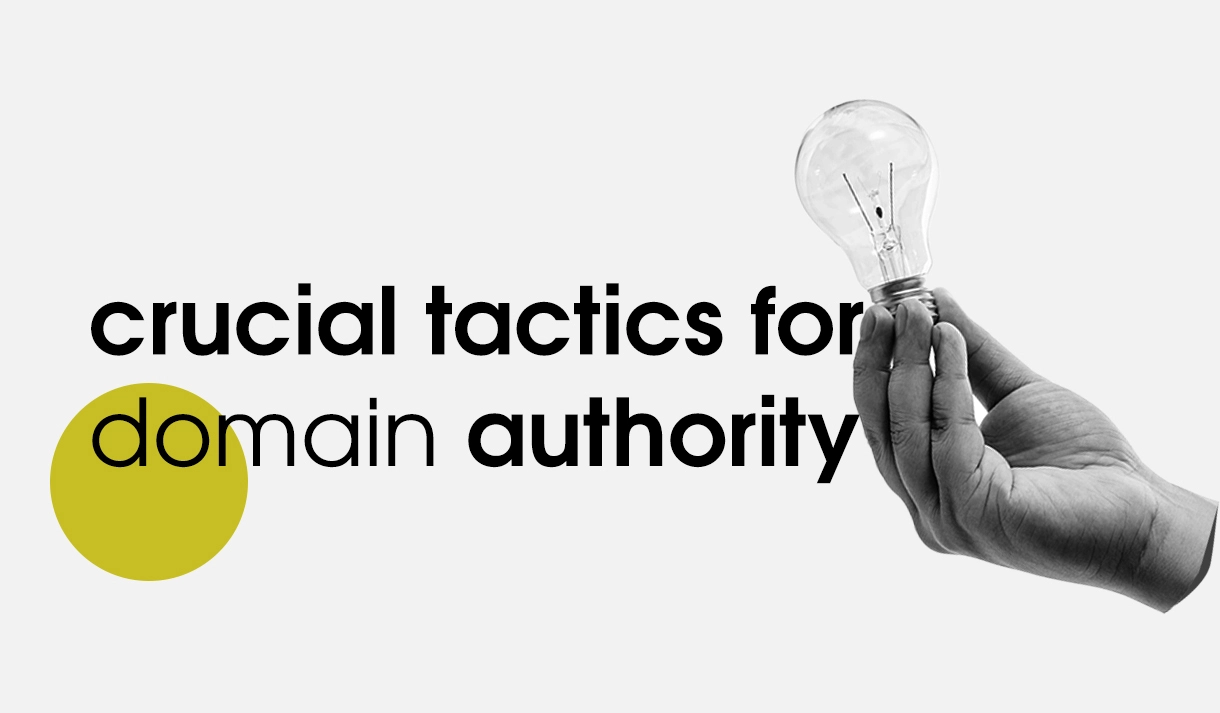 Crucial Tactics for Domain Authority
Marketing is hard. Ecommerce content marketing is harder. There are uncountable websites out there and all of them are clamoring for the same thing: the top space in search engine result pages (SEPRs). In order to truly make your business shine, you have to strategically use the marketing strategies available to you. It's a do or die situation. Quite literally, because if you do not implement these strategies properly, your website might as well die. Hence, we are telling you of these simple tricks and tips that will increase your domain authority.
But What is Domain Authority, you might ask.
Domain authority of a website, according to Wikipedia, describes its relevance for a specific subject area or industry. The relevance has a direct impact on the website's ranking by search-engines. So you might say, this is one important think when it comes to running your ecommerce—or just any actually—website. Basically, it is the measure of how well your website will do on the SERPs. Will it show up on the first few? Will it not show up at all? The works.
Domain authority is scaled on a score of 1 to 100 (1 being the worst and 100 being the best, naturally). Domain authority between 40 and 50 is considered average, between 50 to 60 is considered good and over 60 is considered excellent.
It was developed by Moz, an SEO consulting firm and it works with Google's algorithm called PageRank.
Why do you need this, you might ask.
· Domain authority really matters if your website is new. The relationship between your DA and links is highly important.
· Domain authority has become a part of SEO. In local SEO, domain authority matters a great deal.
· It is one of the most important ranking factors.
· It will increase traffic to your website.
5 Tips on How to Boost Domain Authority:
1. Your Content Should Be A-Class
If your content is exceptional and amicable, then people are more attracted to it. It doesn't matter how long your posts are. Even a six-word post must be eye-catching and memorable.
As a blogger at shoutmeloud.com said, "Content is King," and we totally agree. Content is very, very, very important because it gives a direct reflection as to what your company is about, and what your customers or clients can expect from you.
Like the saying goes, "A Picture is worth a thousand words," use good and noticeable pictures. And if one picture is worth a thousand words, then a video is worth about one point million words, at least! So use good videos, probably ones which are product-focused and ones which will instil your customer's faith and trust in you.
2. Proper Usage of SEO
Now, everybody in this business MUST know what SEO is and HOW important it is to content marketing on ecommerce sites, or just for your regular blogs as well! (if you don't know what SEO is, head over to our blog A Short Manual to SEO: The Hercules of Marketing World). Now, to have a good DA, your webpage must be completely optimized. It must have a keyword density of at least 0.5% and at most 1.5%, optimized images and so forth.
3. Linking
This word has arisen a few times before. What exactly is linking? The best example can be seen in Wikipedia (which has a DA score of 100). Linking basically means forming a connection between your webpage, and another which can be either your own or another one. The most important kind of linking which has more importance than others, this is known as 'Internal Linking,' which is seen excessively in Wikipedia. Internal linking reduces the bouncing rate (via shoutmeloud.com), and thus increases your visitor's average time spent on your site.
Other than internal linking, your external links should also be of high quality.
4. Have Patience
A high DA isn't achieved overnight. Let your website grow and meanwhile, post regularly, and make sure that whatever you are posting is top quality content. Older posts are more likely to have higher DAs so all you can do, sometimes, is wait with patience.
5. Increase Publishing Frequency
Are you currently posting one a week in your blog? Change that to once every day! Or maybe even, twice every day! The more you post, the more is your DA improves. This also gives other benefits like higher traffic, lots of quality content, generates trust among visitors, increases conversions and sales, and in the long run these factors only will raise your DA.